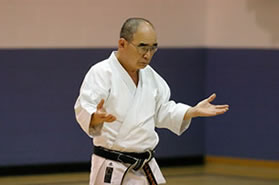 Tominaga Sensei headed national initiatives that put Shotokan karate on the map.
UTKC is the flagship dojo of Jinbukai Canada, a not-for-profit organization created by Tominaga Sensei himself. This makes us an important part of the karate community in Canada and abroad.
Alongside core members of the Tsuruoka Club, Tominaga Sensei also organized major karate tournaments, such as the Canadian Nationals. In 1972, they formed Karate Ontario to regulate the practice of karate at the provincial level. The Technical Committee, formed in 1991, was made up of representatives from each of the five major styles of karate: Goju Ryu, Shito Ryu, Chito Ryu, Wado Ryu, and Shotokan. You guessed it—Tominaga Sensei represented Shotokan.
Coaching duties included the Ontario Provincial Team in 1985 and the National Team in 1987, which made it as far as the Pan American Karate Championships. Tominaga Sensei also taught kata clinics in Canada and managed karate tournaments and seminars across the world.
Whether he was training kids, university students, or professional athletes, Tominaga Sensei offered a unique style of positive reinforcement that made his students believe he would one day buy a wig. You'd know it was coming if you forgot to turn on your heel during basics or if you punched with tense shoulders. He'd shout your name from across the dojo and raise his legendary shinai over your head. His next few words would almost always be the same: "I have no hair left to pull!"